The past month many pledges tied to Blackpool Zoo have been registered on the Pole to Pole Campaign website. How come?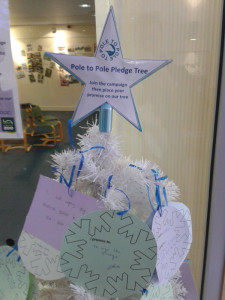 The Education staff at Blackpool Zoo set up an area in the main entrance which was manned by staff during morning and afternoon hours. In the area a white 'Christmas' tree, a large cardboard cut out Polar bear, and some of the Pole to Pole Campaign posters has been put up.
Blackpool Zoo used the tree as a 'Pledge tree', where people could write their pledge on some snowflake cards and then hang it on the tree. The staff manning the display also has an iPad with the campaign website open, so that anyone who stopped to talk could sign up and make their pledge there and then.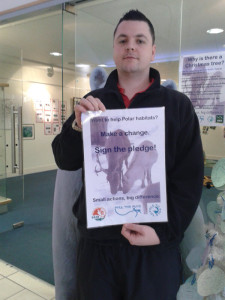 Visitors who showed interest but didn't want to stop were handed cards with a little campaign information and the campaign website address so that they could sign up at home. Blackpool encouraged people to share their pledge onto the Blackpool Zoo Facebook page.
Through Blackpool's 'Green Team' which is in place to discuss and implement sustainable practices all managers were given a presentation on the campaign, and encouraged them to pass information onto their staff. Hopefully all staff across the zoo become involved.