We need your help with collecting as many signatures as possible to present at the United Nations Framework Convention on Climate Change meeting in Paris in December this year.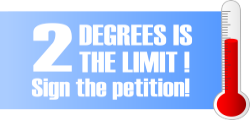 By signing the '2 degrees is the limit' petition we demand the commitment of our national governments and the European Union TO SUPPORT ALL MEASURES WHICH HELP KEEP GLOBAL WARMING UNDER THE 2⁰C LIMIT, and to work towards a binding global agreement at the intergovernmental meeting on climate change in Paris in December 2015.
The petition drive kicks off on International Polar Bear day today and will close on 27 August. During this period of six months we ask you to collect as many signatures as possible! You can download the petition sheet, collect signatures and send a scanned copy to info@poletopolecampaign.org
Also available in German, Spanish, French and Dutch.
Alternatively, you can also sign the petition directly and urge family, friends and colleagues to sign too!