De EAZA Pole to Pole campagne doet mee aan de '2 graden is de limiet' campagne van het Sustainable Development Solutions Network (SDSN).
Tijdens het eerste jaar van de Pole to Pole campagne lag de focus vooral op het doen van de belofte om stekkers uit het stopcontact te trekken. Ook tijdens het tweede jaar zullen we zoveel mogelijk mensen blijven aansporen om deze energiebesparende belofte te doen, maar er gebeurt meer! We bundelen onze krachten met het Sustainable Development Solutions Network (SDSN) om zoveel mogelijk handtekeningen te verzamelen voor de '2 graden is de limiet' campagne.
Wij, de Europese dierentuinen en onze bezoekers, nemen al maatregelen om de klimaatverandering af te remmen. Het wordt tijd dat politici en wereldleiders dit ook gaan doen! De opwarming van de aarde vraagt om drastische maatregelen. We kunnen samen de klimaatverandering afremmen door de gemiddelde temperatuur op aarde met niet meer dan 2°C te laten stijgen.
We roepen wereldleiders op om snel maatregelen te nemen! Teken de petitie en kom in actie tegen klimaatverandering. Deze petitie wordt in december 2015 overhandigd aan de wereldleiders op de klimaattop van de Verenigde Naties in Parijs.
Je kunt tevens het '2 degrees is the limit' petitie formulier downloaden en collega's, vrienden en familie verzoeken te tekenen. Maak als het formulier vol is een digitale kopie (beide kanten!) en verstuur het naar info[at]poletopolecampaign.org.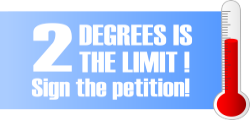 Registreer tevens jouw belofte om de stekker uit elektrische apparaten te trekken en klimaatverandering tegen te gaan. Alvast bedankt!