The celebration of International Polar Bear Day (February 20th) and the recent birth of twin polar bear cubs at EAZA Pole to Pole Campaign participant Hellabrunn Zoo offered an excellent opportunity to raise awareness about global warming. The now world-famous twin cubs attracted many visitors and generated great interest in the fate of their fellow species in the wild. Starting this week, visitors will be able to gain an exclusive peek inside the home of the young polar bear family every weekend and bank holiday.
Approximately 50 visitors gathered inside the Conservation Centre at Hellabrunn Zoo, eyes transfixed to the screen, the atmosphere at times so silent you can hear hearts beat. The reason for this hushed reverence is the presence of the biggest stars of the zoo: the eleven-week-old polar bear twins and mother Giovanna can be seen live on the big screen, broadcast directly from their den.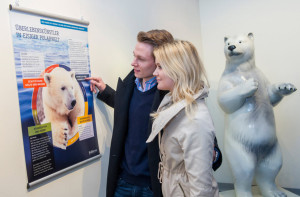 "It was the first time that visitors were able to experience such an exclusive glimpse inside the bedroom of a young polar bear family," said zoo director Dr Andreas Knieriem. "Many of the visitors only came here for this reason. And as the zoo is donating one euro for every visitor to a WWF polar bear patrol in Siberia, also the will be delighted. Although Polar Bear Day fell on a Thursday, outside the school holidays, we were able to raise € 1,502 for a good cause."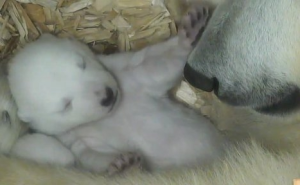 Polar Bear Day raised awareness around the world on the plight of polar bears in the wild, who are threatened primarily by climate change and the reduction of their habitat. The rise to stardom of the little ones should help to shed light on these problems. Apart from the screen, the Conservation Centre has an information booth and volunteers to offer visitors advice on what they can do personally to protect polar bears. Anyone can take his/her responsibility to halt global warming by registering your pledge to unplug electronic devices when not in use.
Watch the moment the 33-day old bear cubs opened their eyes for the first time on video here