'Numerous actions that promote sustainability are susceptible to the most human of traits: forgetting' (Douglas McKenzie-Mohr)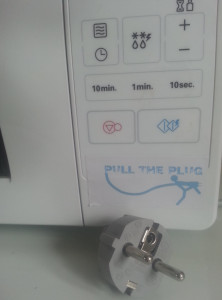 We all have good intentions to pull the plug, but in our busy lives it is sometimes easy to forget; use these stickers to help you remember. To make them most effective stick them in noticeable places related to the devices you will unplug, such as:
• On the back of your phone
• Around the power cable
• On the TV remote control
• On your computer monitor next to the power button
• On your laptop or tablet
• On the door of your microwave
Click on the images below for downloading Pull the Plug reminder stickers (available in Spanish, German, English, Polish, Dutch, Swedish, Hungarian, Italian and French). Print them out on Avery L7159 label paper (3 x 8 label size).